Rodelinda, Regina de' Longobardi (1719)
by G.F. Handel
---
One of Handel's greatest operas, this is a passionate story of power, betrayal and intrigue.
In Italian, accompanied by harpsichord continuo.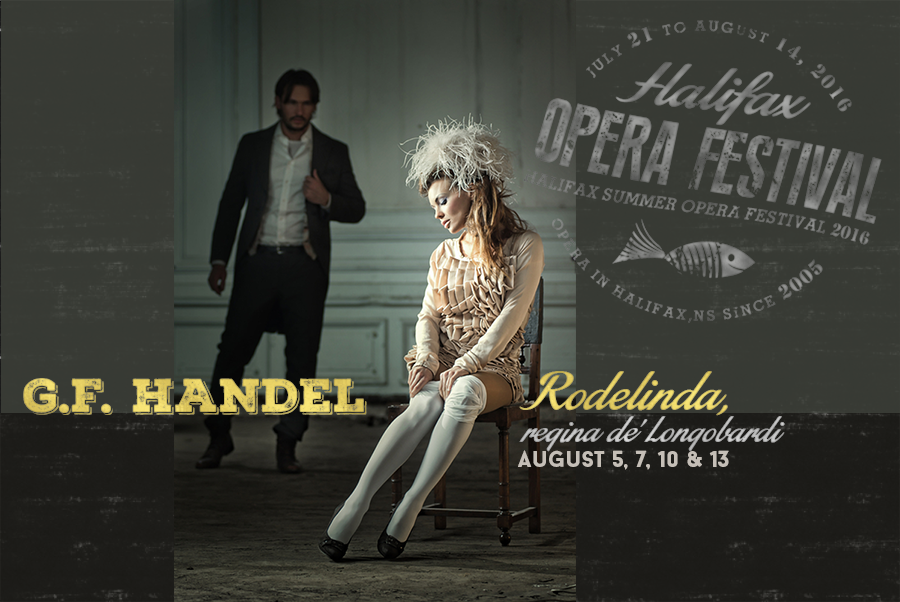 Composed just after Giulio Cesare and Tamerlano, Rodelinda is among the very finest of Handel's operas and was written at the height of his time in London. With its complex plot of dynastic intrigue revolving around the powerful, steadfast love of Bertarido (the ousted king of Milan) and his queen Rodelinda, the opera is dramatic, moving and musically beautiful.
Creative Team
conductor: Nicholas Gilmore
stage director: Nina Scott-Stoddart
collaborative harpsichordist: Natasha Fransblow
stage manager: Amber Sanford
assistant stage director: Carmen Kruse
vocal and diction coach: Jennifer Farrell
costume designer: Elizabeth Perry
Performance Dates and Times
Performances at Studio One Theatre at the Dal Arts Centre
(dates and times subject to change)
Friday, August 5, 7:30 pm
Sunday, August 7, 2:00 pm
Wednesday, August 10, 7:30 pm
Saturday, August 13, 7:30 pm
Cast List
| | | |
| --- | --- | --- |
| Role | August 5 and 10 | August 7 and 13 |
| Rodelinda | Shannon Barry | Rita Wood |
| Bertarido | Andrew Pickett | Gabrielle French |
| Grimoaldo | Blake Beckemeyer | Colin Frotten |
| Eduige | Mary Elizabeth O'Neill | Ellory Clayton |
| Unulfo | Landon Westerfield | Landon Westerfield |
| Garibaldo | Branden Olsen | Ariel Lefebvre |
Synopsis of Rodelinda
The royal family of Lombardy is in an uproar. Grimoaldo has attacked Bertarido, King of Lombardy and Milan, and usurped the throne. Bertarido has vanished, leaving behind his wife, Rodelinda, and his young son, Flavio. Grimoaldo was an ally of Bertarido's estranged brother, Gundeberto who died in battle. Gunderberto's wife, Eduige, now widowed, has been given to Grimoaldo for marriage. She keeps refusing and postponing the marriage, though she does love him, and he her, so that she can properly mourn the loss of her previous husband and missing brother-in-law. Bertarido, still alive, has sent news of his own death to the palace. He plans to return in disguise to rescue his wife and son, and take them to land that is far away from the politics and drama of the kingdom. Grimoaldo decides to break off his engagement with Eduige and instead marry Rodelinda. Meanwhile, Bertarido returns to Milan in disguise with the help of his friend, Unulfo. Unfortunately, Bertarido is captured and matters are further complicated by the machinations of Garibaldo, who also loves Eduige and desires to become king himself. With the assistance of Unolfo, Bertarido escapes from prison, kills Garibaldo, pardons Grimoaldo and is restored to the throne.