Cosi fan tutte, ossia la scuola per amanti (1790)
by W.A. Mozart
---
Mozart's once-scandalous comedy with a sting on its tail: two young men and their fiancees learn a lesson about love taught by an old reprobate and a wily maid.
In Italian, accompanied by piano.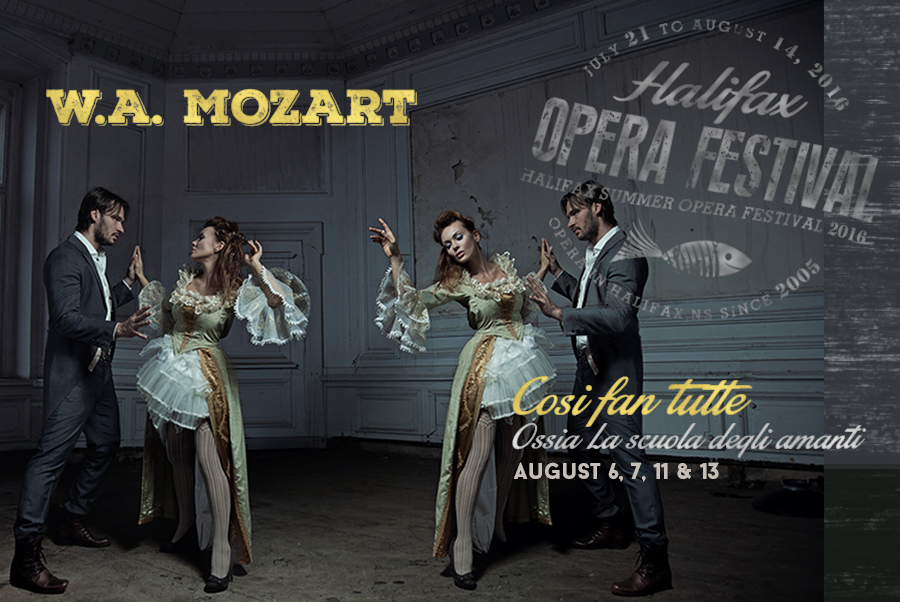 Mozart composed Cosi just after Don Giovanni (1787) and before The Magic Flute (1791). The first run of Così fan tutte in Vienna was interrupted by the death of Joseph II, allowing only ten performances in the season. In the following century the alleged immorality of the plot led to a number of changes in the work, which has been firmly re-established in the 20th century as one of the great masterpieces of operatic repertoire.
Creative Team
conductor: Eszter Horvath
stage director: Anne Morison
assistant stage director: Carmen Kruse
collaborative pianist: Gregory Myra
stage manager: Wyatt McDougall
costume designer: Audrey Sawyer
vocal and diction coach: Lucy Hayes Davis
lighting designer: Sean Burke
Performance Dates and Times
Performances at Sir James Dunn Theatre at Dal Arts Centre
(dates and times subject to change)
Saturday, August 6, 2:00 pm
Sunday, August 7, 7:30 pm
Thursday, August 11, 7:30 pm
Saturday, August 13, 2:00 pm
Cast List
| Role | August 6 and 11 | August 7 and 13 |
| --- | --- | --- |
| Fiordiligi | Rebecca Townsend | Valerie Poisson |
| Dorabella | Elizabeth Barnes | Bree Horton |
| Despina | Megan Miceli | Megan Miceli |
| Ferrando | Didier Lafleche | Henry Hubbard |
| Guglielmo | Jeff Goble | Jeff Goble |
| Don Alfonso | Colin Oulton | Colin Oulton |
Synopsis of Cosi fan tutte
Set in 18th century Naples, the opera opens with Don Alfonso's wager that the two girls, Fiordiligi and Dorabella, are no more trustworthy in matters of love than any other women. In their garden the girls sing of their love, interrupted by Don Alfonso, who tells them that their lovers are to be called away to the war. The couples part, faithfulness now pledged again. Despina, bribed by Don Alfonso, urges the girls to find other lovers, but they declare their constancy. Guglielmo and Ferrando return, disguised as Albanians, but the girls remain firm. When the men pretend to take poison, necessitating the attentions of Despina disguised as a doctor and using the magnetic techniques of Mozart's friend Dr Mesmer to effect a cure, they seem to waver. In the second act they agree to Despina's suggestion of harmless flirtation, each unwittingly choosing the other's partner. The success of the two Albanians, in spite of Fiordiligi's more prolonged resistance, leads to a wedding, with Despina now disguised as the notary. The men now appear as themselves and pretend shock and horror at what is afoot, before revealing their plot. All ends happily (or not), as Don Alfonso urges the power of reason in these circumstances.