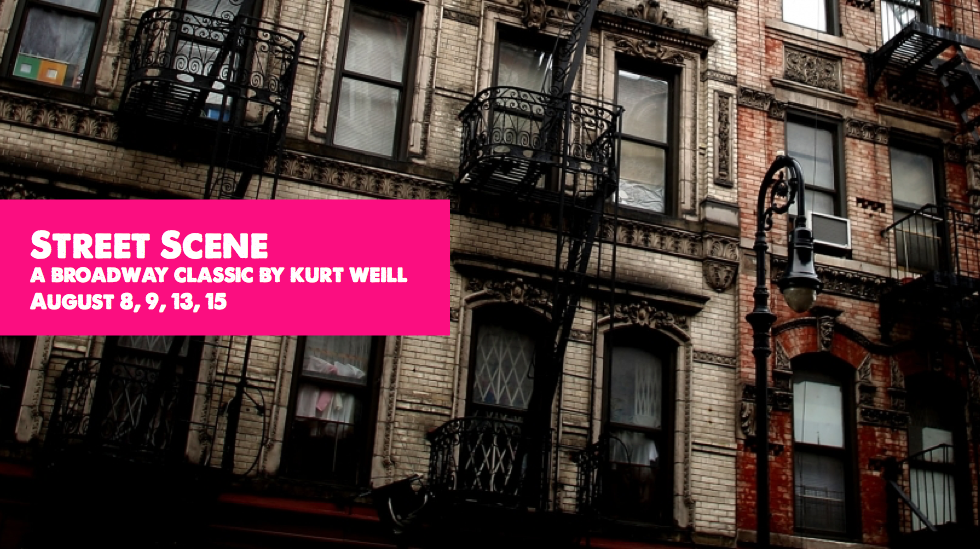 Street Scene by Kurt Weill  (1946)
in English
conductor: Éric Charbonneau
stage director: Andrew Pelrine
collaborative pianist: Chloe Weston
stage manager: Shannon Dickens
costume designer:  Chris Pelrine
vocal and diction coach: Dr. Susan Boddie
Performances at the Neptune Studio Theatre
(dates and times subject to change)
Saturday, August 8, 2:00 pm
Sunday, August 9, 7:30 pm
Thursday, August 13, 7:30 pm
Saturday, August 15, 7:30 pm
Synopsis
ACT I 
Outside an East Side New York tenement on a June evening, the inhabitants are commiserating about the weather – Mrs. Fiorento, The Jones, The Olsens and Abraham Kaplan, a left-winger pouring scorn on the 'capitalist press'. The women gossip about the man who is a regular visitor to Mrs. Maurrant, but stop when she joins them. Kaplan's son Sam comes by to ask if Rose, Anna Maurrant's daughter, is at home, but is disappointed. Frank Maurrant, a Broadway stagehand, arrives home; he flares up in anger at his daughter not being home yet and at his wife not being sure where she is. Anna tries to excuse his behaviour to the others but is obviously worn out with his bullying and drudgery, though she clings to the hope of 'a brighter day'. Her 'visitor' comes by: Mr. Sankey, "the collector for the milk company", ostensibly on his way to the drugstore. Anna quickly follows him, and the neighbours continue to cluck about it. Mrs. Fiorentino's husband Lippo arrives, with ice-cream cones for everyone, which are rapturously received.
Willie Maurrant is not home yet and his father threatens to beat the daylights out of him; this starts an argument with Kaplan, who Maurrant threatens to beat up, bitterly denouncing "the kind of things going on nowadays". The Hildrebrands arrive home – proud of daughter Jenny, who has just graduated with a prize, but dejected because tomorrow they are to be dispossessed. The neighbours cheer them up with a little party; Willie Maurrant comes home, crying from a fight with the local bully, who had called his mother a whore. The group breaks up, but with menace in the air. Sam muses on his own loneliness in such a crowd of people.
Rose arrives, accompanied by Harry Easter, a predatory boss with a tempting line. She persuades him to go as her father appears and there is the expected row. Mr. Buchanan, another neighbour, asks her to go fetch the doctor for his wife who is in labour.
Dick McGann and Mae Jones enter; he is having difficulty in getting any response from her and declares his love in a brilliant dance routine. Rose returns and is hustled by Mrs. Jones' son Vincent, who beats up Sam when he tries to protect Rose. Their ensuing scene together shows that she has only affection for Sam, while he is deeply in love with her.
ACT II
SCENE I
Early next morning; the street is awakening and the kids play games on the way to school. Maurrant is leaving for New Haven, accuses his wife of wanting to know his time of return because she is expecting a visitor. Both Rose and she remonstrate with him, but he leaves, with dark threats. Mrs. Maurrant sees Willie off to school with a rare demonstration of affection and Sam makes a desperate plea to Rose to escape together, but she asks for time to consider.
The action is now speeded up almost cinematically: Sankey arrives and goes upstairs to Mrs. Maurrant; the City Marshal arrives to dispossess the Hildebrands; Maurrant reappears, slinks upstairs – and then there are two shots, a fall, Sankey appears at the window in terror and another shot rings out. Frank escapes in the confusion and Rose returns, only to see her mother being carried off in an ambulance, as the crowd share her grief.
SCENE II
That afternoon- The Hildebrands' furniture is still being removed. Two nursemaids revel in the evening paper's details of the murder. Rose, now in mourning, tells Sam that her mother died in hospital. Maurrant is caught and led on between two policemen; he begs for a chance to speak to Rose and pathetically tries to justify himself. Sam tries to persuade Rose to go away with him, but she insists that she can't belong to anyone and he must come to terms with himself. She leaves, to collect her little brother and rebuild their lives; two people arrive to take the Hildebrands' flat, the neighbours continue to grumble about the weather – and life on the New York street goes on.
TICKETS
$25
$20 Student and Artist
$5 Children 12 and under
Order by phone (credit card only) or get box office help at: (902)-422-6278 ex. 500
TICKETS ON SALE ONLINE FROM JUNE 1, 2015
Tickets available in person (cash, debit) at:
The Coast
2309 Maynard Street
Halifax, NS
B3K 3T8
and at the venue an hour before each performance by cash, credit and cheque.
August 8, 2:00 pm
August 13, 7:30 pm
August 9, 7:30 pm
August 15, 7:30 pm
Frank Maurrant, a violent, disagreeable brute
Evan Adair (USA)
Evan Adair (USA)
Anna Maurrant, his warm wife
Karina Bray (ON)
DeAnna Tisdale (USA)
Rose Maurrant, their teenage daughter
Joanna Burke (USA)
Rebecca Townsend (ON)
Willie Maurrant, their son
Keira Davis (NS)
Keira Davis (NS)
Emma Jones, a gossipy neighbor
Emma Bergin (ON)
Sarah Pistorius (USA)
George Jones, her alcoholic husband
Domenico Sanfilippo (ON)
Domenico Sanfilippo (ON)
Mae Jones, their promiscuous teenage daughter
Corinne James (ON)
Corinne James (ON)
Olga Olsen, a Swedish neighbor
Sarah Pistorius (USA)
Emma Bergin (ON)
Carl Olsen, her husband
Dylan Langan (ON)
Dylan Langan (ON)
Dick McGann, a romantic interest of Mae Jones
Andrew Pelrine (NS)
Samuel Stickland (USA)
Harry Easter, Rose Maurrant's sleazy boss
Adam Arnold
Adam Arnold
Nursemaid #1
Nalani Perry (NS)
Lise Renault (NS)
Nursemaid #2
Rayleigh Zimmerman (ON)
Nicole Grass (NS)
Abraham Kaplan, a radically opinioned elderly Jewish man
David Mosey (NS)
David Mosey (NS)
Shirley Kaplan, his daughter, a schoolteacher
Isla Healy (England)
Isla Healy (England)
Sam Kaplan, his meek teenage grandson, in love with Rose Maurrant
Samuel Strickland (USA)
Samuel Allen (USA)
Greta Fiorentino, a German neighbor
Marie Franceschini (ON)
Marie Franceschini (ON)
Lippo Fiorentino, her feisty Italian husband
Patrick Simms (NS)
Andrew Pelrine (NS)
Mrs Hildebrandt (u/s Greta)
Kate Lexington (ON)
Kate Lexington (ON)
Jennie Hildebrand, a teenaged girl
Michaela Chiste
Lauren Bryant-Monk (ON)
Charlie Hildebrandt
Nicole Grass (NS)
Nicole Grass (NS)
Mary Hildebrandt
Rayleigh Zimmerman (ON)
Rayleigh Zimmerman (ON)
Daniel Buchanan/Henry Davis
Jakob Creighton (NS)
Jakob Creighton (NS)
Steve Sankey, an attractive milkman
Stephen Lahaie (NS)
Stephen Lahaie (NS)
Myrtle
Raelyn Davis (NS)
Raelyn Davis (NS)
Officer Murphy/Vincent Jones
Carey Bray (NS)
Carey Bray