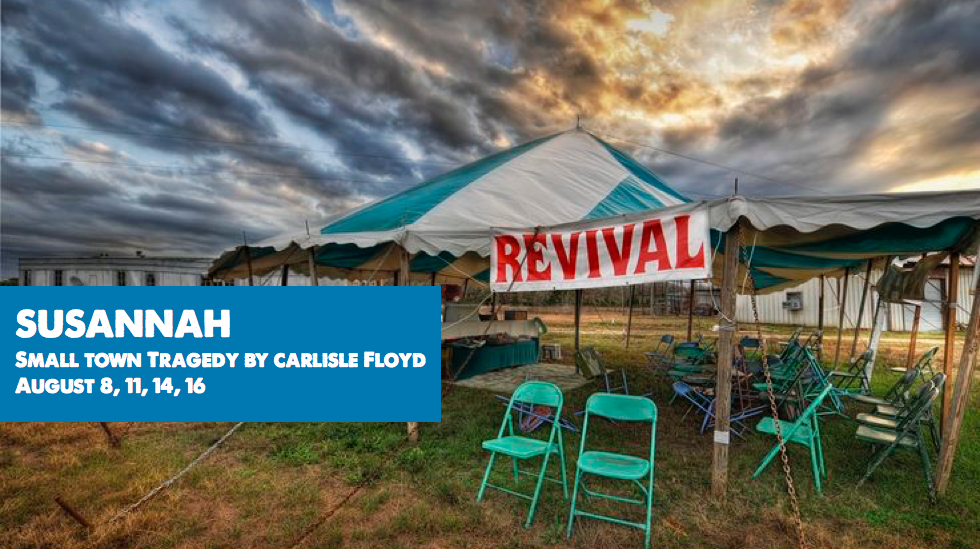 Susannah by Carlisle Floyd  (1954)
in English

conductor: Nicholas Gilmore
stage directors: David Mosey and Nina Scott-Stoddart
collaborative pianist: Asher Farber
stage manager: Joanna Black
vocal and diction coach: Lucy Hayes-Davis
costumer: Audrey Sawyer
Performances at Sir James Dunn Theatre
(dates and times subject to change)
Saturday, August 8, 7:30 pm
Tuesday, August 11, 7:30 pm
Friday, August 14, 7:30 pm
Sunday, August 16, 2:00 pm
Synopsis
Written during the McCarthy era, Susannah is based loosely on the Apocryphal tale of Susannah and the Elders. In New Hope Valley, Tennessee, Susannah – a pretty and well-mannered young woman of humble origins – is faced with hostility from her church community. The opera opens at a square dance given by her church; a group of wives, jealous of Susannah's beauty and the attention it brings from their husbands, are gossiping about her. Mrs. McLean, one of the wives, states that you can't expect more from someone who was raised by her drunken brother. Finally, the Reverend Olin Blitch, newly arrived to lead the congregation, enters and asks Susannah to dance despite the gossip. Later that evening, Susannah tells her admirer Little Bat – son of Mrs. McLean and her husband, an elder of the church – about the dance; Little Bat leaves abruptly once her brother Sam returns from hunting.
The next morning Susannah is innocently bathing naked in the creek near her home; she is discovered by the elders, who are searching for a baptismal stream. They conceal their lust with outrage and tell the community of her wickedness. Susannah arrives at a church dinner that evening and is sent away, much to her confusion. Later, as she is pondering why she has been shunned, Little Bat tells her that the elders have denounced her for bathing in the nude, and admits that he was coerced into saying she seduced him.
Sam informs Susannah that she must make a public confession in order to be absolved. Though she claims she has nothing to confess, she goes to the service where Olin Blitch is preaching. When she is singled out to come forward, she runs away. Once the service has ended, Reverend Blitch goes to Susannah's house and offers to pray for her soul; upon discovering that her brother is away, Blitch rapes her.
The next day Blitch, having discovered that Susannah was a virgin, comes to her and begs for forgiveness. He throws herself at Susannah's mercy, but she refuses to forgive him. When Susannah tells Sam the story he threatens to kill Blitch; he leaves for the baptismal service, carrying his shotgun. Convinced that Susannah led her brother to murder, the community heads to her house to drive her out of the valley. However, Little Bat has warned her in advance, and when the vigilantes arrive she is waiting with a shotgun. They retreat, but she has effectively severed her ties with the community and her world.
TICKETS
$25
$20 Student and Artist
$5 Children 12 and under
Order by phone (credit card only) or get box office help at: (902)-422-6278 ex. 500
TICKETS ON SALE ONLINE FROM JUNE 1, 2015
Tickets available in person (cash, debit) at:
The Coast
2309 Maynard Street
Halifax, NS
B3K 3T8
and at the venue an hour before each performance by cash, credit and cheque.
role
August 8, 7:30 pm
August 14, 7:30 pm
August 11, 7:30 pm
August 16, 2:00 pm
Susannah Polk
Amanda Poole
Lauren Estey (NB)
Rev. Olin Blitch
Ian Fundytus (AB)
Ian Fundytus (AB)
Sam Polk
Kaden Forsberg (AB)
Patrick Simms (NS)
Little Bat McLean
Henry Hubbard (USA)
Colin Frotten (NS)
Elder McLean
Dylan Langan
Dylan Langan
Elder Gleaton
Patrick Simms (NS)
Kaden Forsberg (AB)
Elder Hayes
Colin Frotten
Henry Hubbard (USA)
Elder Ott
Mitch Hipwell
Mitch Hipwell
Mrs McLean
Andrea Johnston (NB)
Arleigh Shaw (ON)
Mrs Gleaton
Zoe-Elizabeth McCray (USA)
Zoe-Elizabeth McCray (USA)
Mrs Hayes
Sara Carter
Sara Carter
Mrs Ott
Meghan Hopkins (ON)
Danyel Reid (USA)