Today I did yoga in a garden. Unlike the fairy tale wilderness that characterises my mother's garden, this one is rather a big green open space with numerous types of flora–both with and without blossoms–configured around it.  After a long successful day of rehearsing at the Halifax Summer Opera Festival, I was in need of some fresh air, tranquility, and a good stretch.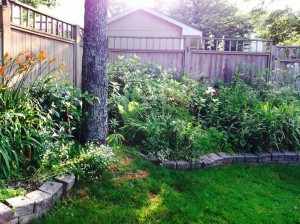 Although I have done yoga outside before, it was always on a hard man-made surface. To be doing the same relaxing and yet invigorating movements on the grass made me feel not only more connected to the earth under my hands and feet, but more like my limbs were an extension of the earth. Each molecule of my being is drawn from the same primordial ooze as the grass, the flowers, the trees, the dogs barking in the distance. I sensed for the first time while in the yoga state that I was truly relaxed and focused. Not only that, but the poses actually felt easier.
Context can make all the difference. Doing a summer program in a place like Halifax is really a joy because when you step out of the rehearsal space, you know that so much natural beauty is waiting to receive you. Numerous trees and patches of inviting grass surround our rehearsal venue.  Meanwhile, the water that carried our ancestors here sits directly in front of it. Who wouldn't want to make art in a place like that?
Halifax is a city engulfed in nature. Yes there are cars and houses and businesses but there are also parks and hills and WATER. This program, although, at its core, is scholastic venture, was founded and is maintained with lots of love. As much as the program inspires me to work harder, nothing feels too rigid or uncomfortable. I feel focused, but I also feel free.