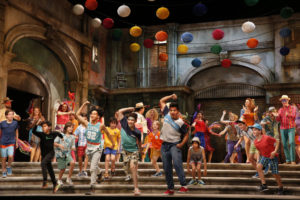 For the first time, we're going to have community chorus members for one of our fully-staged operas this summer, and we're looking for more children who might be interested in being involved.
Here's what you'll need to know:
WHAT?
The Halifax Summer Opera Festival is an annual educational workshop for young (usually university aged) opera singers. Now entering our 13th season, we're thrilled to present Georges Bizet's famous opera Carmen as one of our mainstage operas. We would like to add community chorus elements to this production so that we involve even more members of our Halifax community in the shows.
We perform all our shows fully-staged and costumed, but usually with piano accompaniment. This year the conductor for Carmen is Peter Oleskevich and I (Nina) will be the stage director. It will be a modern dress performance — so the original 19th century story is being moved to the present day. (Note for parents and guardians — while the entire opera is famous for being a little gritty and racy, the children's part is short, takes place in the first act, and is very, very cute).
This opera has very important choral scenes, but one of the best happens near the beginning of the opera. At this point in the story the guard in Seville is changing, and a troop of street children run in, march like soldiers and sing a unison chorus to a military beat. All the words are in French, but it's a pretty easy, fun chorus.
WHO?
Children up to the age of 13 or 14, who enjoy singing and acting and aren't scared of singing in French and who can commit to the schedule! If you have some experience singing in a choir then you won't need to audition — we want as many people as possible to be involved.
WHERE?
All performances and dress rehearsals will be at the James Dunn Theatre at the Dalhousie Arts Centre, 6101 University Avenue, Halifax.  All staging rehearsals will be in room 121 of the Arts Centre, in the basement. Musical rehearsal location TBA
WHEN?
We want to have at least two musical rehearsals with the kids before the regular opera rehearsals start. The evening we're looking at is Monday — perhaps two Monday evenings in July. Tara Scott will be preparing the children's chorus.
Then the regular rehearsal period for the whole opera runs from Saturday July 15. That's when the whole cast is in Halifax. Once the whole company is in town, we'll have a music rehearsal with the children and the conductor, then a blocking rehearsal or two, a run through and then the dress rehearsals, so we keep the amount of time needed down to a minimum. At dress rehearsals and performances, we'll have the children take their bow after Act I, so they can be released (they won't have to stay for the whole performance, unless they want to).
These are the nonnegotiable dates:
Dress rehearsals:
Wednesday August 2, 6 pm call for 7 pm dress rehearsal
Thursday August 3: 6 pm call for 7 pm dress rehearsal
Performances: 
Friday August 4, 6:30 pm call for 7:30 show.
Sunday August 6: 6:30 pm call for 7:30 show.
Thursday August 10: 6:30 pm call for 7:30 show.
Saturday August 12: 1 pm call for 2 pm show
RESOURCES
You can download the sheet music here:
https://www.dropbox.com/s/fw6zc44wrmhavml/Carmen%20Children%27s%20Chorus.pdf?dl=0
And there are many fine YouTube videos of children's choruses performing this on stage. Keep in mind ours will be a modern production, so it will look a little different (possibly skateboarders?), but I like this one from the Met:  https://www.youtube.com/watch?v=HVvtN7TJcpc  The tempo is really fast!
No auditions needed — but if parents could drop me an email, I'll get you on the list!
Regards,
Nina
Artistic Director
902-521-8577
ninascottstoddart@gmail.com