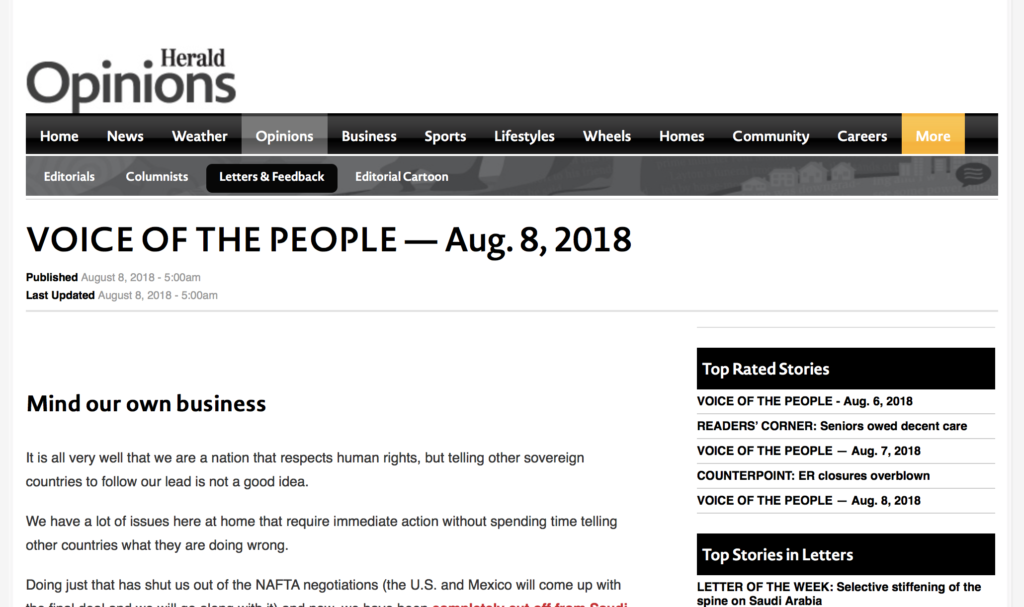 VOICE OF THE PEOPLE – August 8, 2018
High note for Halifax
WIMBY! (Wow, in my backyard!)
This spring, I attended nine operas in prestigious, and often expensive, opera houses in Zurich, Munich, Milan, Turin and Piacenza, but none gave me more pleasure than The Coronation of Poppea that I saw recently at the Dalhousie Arts Centre.
The singing and acting were at a consistently very high level, the string and organ/harpsichord accompaniment was always supportive but never overpowering, the costumes colourful and imaginative, and the complex plot easy to follow thanks to subtitles that included the name of the character whose words were being translated. I don't think that many Haligonians realize what a musical and theatrical treasure they have in town until Aug. 12. Otherwise, there would have been no empty seats.
The Halifax Summer Opera Festival brings together young singers from all over North America and beyond to put on four performances of each of three operas. In addition to the aforementioned, this year includes Don Giovanni and Britten's A Midsummer Night's Dream. Each opera has two casts, so it is very interesting to see how a second cast tweaks the performance.
Judging by the excellent singing I heard at introductory presentations at the Halifax Central Library a couple of weeks ago, I have every confidence that Don Giovanni and A Midsummer Night's Dream will be as enjoyable as was The Coronation of Poppea.
David Mercer, Halifax