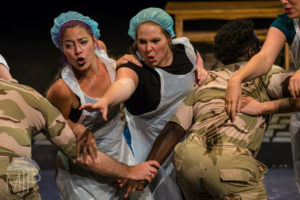 The Halifax Summer Opera Festival in Nova Scotia, Canada is preparing for its 14th season in 2018 — with main stage productions of Mozart's Don Giovanni, Britten's A Midsummer Night's Dream and Monteverdi's L'Incoronazione di Poppea.
All in-person audition dates are open for applicants now — as well as distance applications by digital upload which will stay open until all roles are cast.
IN PERSON AUDITIONS
LONDON, ON — Sunday November 5, Western University, Faculty of Music, Room MB254, 1:30 pm to 6:00 pm
TORONTO, ON — Saturday November 11, University of Toronto, Edward Johnson Building, Rm 109, 11 am to 3 pm
MONTREAL QC — Monday November 13, Opera de Montréal, Place des Arts,  5 to 7 pm
MONTREAL, QC — Tuesday November 14, McGill University, Wirth Opera Studio, 555 Sherbrooke Avenue West, 2 to 6 pm
SACKVILLE, NB — Wednesday November 15,  Mount Allison University, Department of Music, 134 Main Street, Room 100, 7:30 to 9:30 pm
HALIFAX, NS — Saturday November 18, Maritime Conservatory of Performing Arts, 6199 Chebucto Road, Room `12, 2 to 5 pm.
In all cases you must arrange for your own accompanist. In Montreal, our head collaborative pianist, Giancarlo Scalia, is available both days for auditions — email him in advance at gcscalia@gmail.com