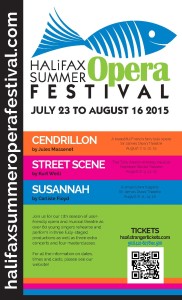 For Immediate Release – July 6, 2015
11th Halifax Summer Opera Festival Opens (July 18-August 16)
(Halifax, NS) – Opera and musical theatre take centre stage once again as Halifax Summer Opera Festival (HSOF) launches the eleventh annual Festival and Workshops from July 18 to August 16 in Halifax. With fifteen performances during the four weeks, including three mainstage shows, masterclases and special events, HSOF moves from musical theatre to romantic opera, from art song to Broadway during their 2015 season.
Highlights of this year's HSOF include the following events:
MAINSTAGE SHOWS:
HSOF presents three mainstage shows this summer: Cendrillon by Jules Massenet, Street Scene by Kurt Weill and Susannah by Carlisle Floyd. Cendrillon (presented in French with English translations) and Susannah take place at the Sir James Theatre, and Street Scene will run at Neptune's Studio Theatre. All operas as fully-staged and costumed and accompanied by piano.
Cendrillon (Cinderella) is one of Massenet's most beautiful scores and a really family friendly fairy tale opera. Performances take place Friday, August 7 at 7:30 p.m., Sunday, August 9 at 2:00 p.m., Wednesday, August 12 at 7:30 p.m. and Saturday, August 15 at 2:00 p.m.
Street Scene is Kurt Weill's Tony Award-winning Broadway musical (based on Elmer Rice's Pulitzer Prize-winning play), telling the interconnected stories of a New York tenement building. Performances take place Saturday, August 8 at 2:00 p.m., Sunday, August 9 at 7:30 p.m., Thursday, August 13 at 7:30 p.m. and Saturday, August 15 at 7:30 p.m.
Susannah is one of the greatest American operas: short and packed with accessible, passionate music. Performances take place on Saturday, August 8 at 7:30 p.m., Tuesday, August 11 at 7:30 p.m., Friday, August 14 at 7:30 p.m. and Sunday, August 16 at 2:00 p.m.
LECTURE SERIES:
HSOF Artistic Director Nina Scott-Stoddart present an entertaining and informal lecture recital series at Halifax Central Library, providing musical, historical and dramatic context for the three mainstage shows, illustrating the development of opera and musical theatre from the turn of the last century to the 1950s. Each talk focuses on one work, illustrated with slides and musical examples, many performed live by the young singers in town for HSOF. Free admission. Each talk starts at noon and runs 45 minutes:
Tuesday, July 28 – Jules Massenet's Cendrillon (1899) and romantic French opera of the late 19th century
Wednesday, July 29 – Kurt Weill's Street Scene (1947); a new kind of "American opera" produced on Broadway
Thursday, July 30 – Carlisle Floyd's Susannah (1955), McCarthyism and American opera
SPECIAL EVENTS:
Saturday, July 18 – Season Launch Cocktail Party at President's Home (910 Young Avenue) 7:30 p.m. Admission: $25 regular, $10 students/artists. Meet some of the rising young stars of the Festival at this intimate and exclusive fundraising party. Dressing up encouraged as you enjoy an evening of music, nibbles, drinks and fun! Please reserve for this party by emailing Festival Manager, Fleurette Benoit at boxoffice@halifaxsummeroperafestival.com.
Thursday, July 23 – Opera Backwards: a very queer show at The Bus Stop Theatre (2203 Gottingen Street), 7:30 p.m. Admission: $15 Regular, $10 Student and Artist. In the tradition of "Broadway Backwards," and in celebration of Halifax Pride, the annual show where musical theatre numbers are given an LGBT twist. Hosts Kristi Davidson and Bunni Lapin. Please note this is an adult show and not suitable for children.
Saturday, August 1 – Musical Theatre Night at Lilian Piercey Concert Hall, Maritime Conservatory of the Performing Arts (6199 Chebucto Road), 7:30 p.m. Admission $20. Come hear some of the finest young musical theatre artists in beloved Broadway classics!
Thursday, August 6 – In the Beginning Was The Word: An Evening with Emily Dickinson at Paul O'Regan Hall (Halifax Central Library), 6:30 p.m. One of the most enigmatic figures on the literary landscape, Emily Dickinson wrote over 1700 poems of which only seven were published during her lifetime. In seclusion, and writing with fierce energy (even fury at times) she analyzed the nature of human alienation in an uncertain and inferential universe, compressing her observations into tightly written finely wrought poetry. An extraordinary number of her poems  have been set to music. Through poetry, music and narrative, this event introduces the world of Emily Dickinson. Admission: free.
HSOF's ticket partner is Ticket Halifax and The Coast. You can order advance tickets to all shows online (hsof.boldtypetickets.com), or by phone (credit card only) at (902) 422-6278 (ext. 500). Tickets are available in advance in person (cash, debit) at the Coast, 2309i Maynard Street. Tickets will also be available at the venue for non sold-out events. All seating is general admission. Opera lovers can also purchase a Festival Pass for $150, which gets you in to sixteen events, including four performances each of Cendrillon (two casts), Susannah (two casts) and Street Scene (two casts) plus Opera Backwards and Musical Theatre shows, an evening with Emily Dickinson and four master classes – best deal in town!
Halifax Summer Opera Festival and Workshop educates and develops both singers and audiences through the performance of operatic repertoire. For eleven seasons, HSOF has presented fully staged operas each summer, giving singers from university undergrads to professionals opportunities to learn roles in the context of performing an entire, full-staged opera. Participants are selected from live or recorded auditions and participate in rehearsals and master classes on everything from auditioning techniques to dramatic and musical interpretations by seasoned pros. HSOF is a not-for-profit society with a volunteer Board of Directors, based in Lunenburg and Halifax. You can find out all the details at www.hallifaxsummeroperafestival.com.