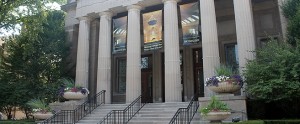 For the first time the Halifax Summer Opera Festival and the Yorkshire Opera Workshop will be auditioning in Evanston, IL on Friday November 1, at Music Institute of Chicago's Evanston East Campus at 1490 Chicago Avenue at Grove Street in downtown Evanston from 4 to 7 pm. One audition (and one $25 application fee) covers your application to both programs.
I'm particularly thrilled to be hearing auditions here because my mother was born in Evanston 🙂 Add that to the chance to hear great young singers from the mid-West and it's a perfect trip!
The 2014 Halifax Summer Opera Festival will run from July 21 to August 17 and will feature productions of Handel's Giulio Cesare in Egitto (with Baroque orchestra), Dvorak's Rusalka (in Czech with piano) and Stephen Sondheim's Into The Woods (with piano). 2014 marks HSOF's 10th anniversary!
The 2014 Yorkshire Opera Workshop runs in England from May 11 to May 30 and will present Gilbert and Sullivan's English operetta Iolanthe..
For more information about applying to the programs, please see our website.