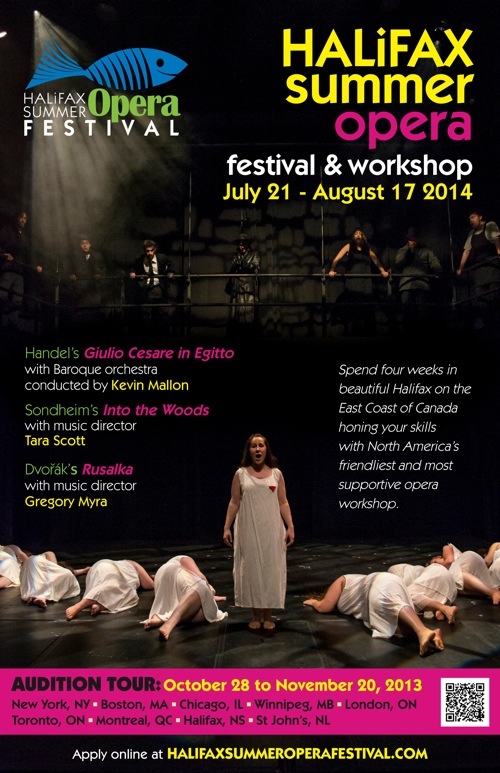 Applications are now being accepted for both the Halifax Summer Opera Festival and Workshop's tenth season and for the second season of the Yorkshire Opera Workshop. The application fee is $25 Canadian.
Halifax, Nova Scotia, Canada
Monday July 21 through Sunday August 17, 2014
Giulio Cesare in Egitto by Handel (1724)
performed with Baroque orchestra featuring members of Aradia
Repetiteur: Lynette Wahlstrom
Vocal Coach: Jackie Short
Music Director:  Gregory Myra
Stage Director: Andrew Pelrine
Into the Woods by Stephen Sondheim (1986)
Music Director:  Tara Scott
Stage Directors: David Mosey and Nina Scott-Stoddart
Vocal Coach: Anthony Radford
Saltburn-by-the-Sea, North Yorkshire, England
Sunday May 11 through Friday May 30, 2014
Spend three weeks in England, learning and performing a complete role in one of the greatest English operetta ever written!
Iolanthe by Gilbert and Sullivan (1882)
Music Director:  Gregory Myra
Vocal Coach: Lenard Whiting
Stage Directors: David Mosey and Nina Scott-Stoddart
Both workshops are open to singers of all nationalities and ages. 
Live auditions for both these workshops will be held:
October 28, 2014:  NEW YORK CITY, NY
October 30, 2014: BOSTON, MA
November 1, 2014: CHICAGO, IL
November 3, 2014: WINNIPEG, MB
November 6, 2014: LONDON, ON
November 8 & 9, 2014: TORONTO, ON
November 10, 2014: MONTRÉAL, QC
November 13, 2014: ST JOHN'S, NL
November 16, 2014: HALIFAX, NS
DVD/CD distance applications will be accepted postmarked up to November 10, 2013.
Digital packages can be uploaded until all roles are filled, but we'll start casting by November 16, so please get your packages in early!
All the best in all your auditions!
————————————————————–
Marja Ernst
Administrator and Producer
Nina Scott-Stoddart
Artistic Director